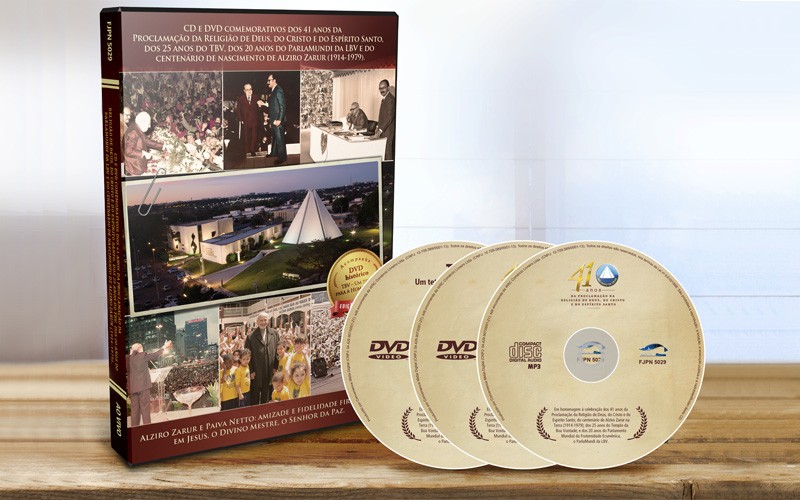 A special collection (with two DVDs and one CD) containing the historical moments of the expansion of the message of the Gospel-Apocalypse of Jesus, the Ecumenical Christ, the Divine Statesman, around the world has been launched. This exclusive DVD/CD set is a tribute to four important dates celebrated in 2014 by the Good Will Organizations (IBVs): the 41 years of the Proclamation of the Religion of God, of the Christ, and of the Holy Spirit2; the 25 years of the Temple of Good Will (TGW); the 20 years of the World Parliament of Ecumenical Fraternity, the LBV's Parlamundi; and the centenary of the birth of Alziro Zarur (1914-1979), the late proclaimer of the Religion of the Third Millennium and founder of the Legion of Good Will.
The documentaries, which were an initiative of the President-Preacher of the Religion of Universal Love, José de Paiva Netto, preserve the memory and fundamental concepts of the IBVs. That is why the great speeches of Alziro Zarur and of his successor, Paiva Netto, since the beginning of the apostolate of the Religion of God, of the Christ, and of the Holy Spirit, have been brought together in these videos.
It is also worth remembering that all these dates will be celebrated on November 8 in Brasília (Brazil), during the celebrations of the Silver Jubilee of the TGW, with the presence of the founder of the monument, Paiva Netto.
To receive this product all you have to do is participate in the Permanent Christmas Campaign of the Religion of Universal Love "Hail Jesus!" by making a special Christmas donation. All funds raised during the campaign will be used for carrying out fraternal actions of spiritual comfort.
The DVD comes with subtitles in four languages: English, Spanish, French, and Esperanto.
For more information on how to participate in the campaign write to english@boavontade.com