The Legion of Good Will (LGW) in the United States is building in the Ironbound district of Newark, the biggest city in the State of New Jersey, the Paiva Netto Educational and Social Assistance Center. The unit will house an early childhood care and learning center and a social service center.
Annually, about 1,300 families will benefit from the services that will provide for the community. In this district 28% of the population live under the line of poverty*, that represents almost a triple of the State's percentage and the double of the National level, that is 14,9%.
LGW's volunteers that are helping in this construction have been fighting a harsh winter that reached all over the country, with temperatures under 0°C. But with the support and strength of all of them, especially the donor Wesley Machado, owner of Valley View Construction that donated all the supplies and labor force to do the roof of the building, the construction is in full swing.
Being honored by the US Legionnaire team, Mr. Machado went to tears to highlight the solidarity gesture that moved him: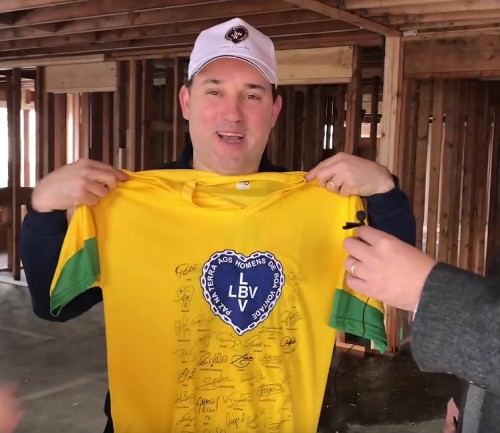 "I am in the United States for 24 years and when I came to the USA I dreamed to help my family. I was helped someday and God gave me the opportunity to come to this country and make a difference in my family's life and in the life of others. It's a privilege to us, that know God's words, to help other people. (…) It's our privilege to be able to help. Thank you so much!".
Firm in this feeling of Solidarity that is widely preached and lived by the Religion of God, of the Christ, and of the Holy Spirit, we dedicate to our donors a part of the article "Solidarity: Reason and Heart of the Economy" of the writer Paiva Netto:
" (...) We argue in favor of the Economics of Spiritual and Human Solidarity, a proposal I launched decades ago. It goes beyond the economics that individuals discuss so much about and of which they affirm one thing today and despise it tomorrow, leading generations to despair. We advocate that Solidarity has expanded from the luminous field of Ethics and has become a Strategy for Survival, which is above the laws and economic models hitherto discovered and often employed by us humans in an undignified way. We discuss concepts that pre-exist the creation of the world, which have to do with the Laws of Divine Economics, which treat genders equally, because they are destined for the immortal essence of the daughters and sons of the universes."
Danilo Parmegiani

LGW's team with Wesley Machado
BE PART OF THIS SOLIDARY ACTION!
You can change the lives of thousands of families for the better. Become a donor and help build the Paiva Netto Educational and Social Assistance Center in Newark/NJ. Donate now at www.lgw.org/childcenter
* Source: United States Census Bureau