The Heavenly Father has always been committed to the spiritual progress of Humanity. The Holy scriptures are evidence of this since they register the Covenants of the Creator with human and spiritual beings at several moments in time, in the most diverse ways and characters. These Covenants represent the commitment that everybody has with one another and that each person has with the Divine Origin of everything, which is spiritual.
This line of reasoning is based on the definition brought by Christ himself and revealed to the Samaritan woman at Jacob's well: "God is Spirit" (The Gospel of Jesus according to John 4:24). Also with regard to the divine form, the President-Preacher of the Religion of God, of the Christ, and of the Holy Spirit1, José de Paiva Netto2, wrote: "He does not have a human form. Therefore, it is not about what some people think of Him in such a restricted way. For the time being humans cannot see Him, but they can feel Him every time they really love and distance themselves from Him every time they hate. Poeticizing, God would be a Sublime Equation whose result is Love."
For this reason, when it is understood from a spiritual viewpoint, this Covenant with God is eternal and, when properly comprehended, results in a lot of benefits for human and spiritual beings. But unfortunately few take advantage of it . . . In the current scenario we can see that violence, inequality, prejudice, and the misuse of natural resources are merely evidence of the lack of people's commitment to their own families and their environment. Are we committed to equality and freedom for all? Isn't the Covenant with the very preservation of Humanity being broken?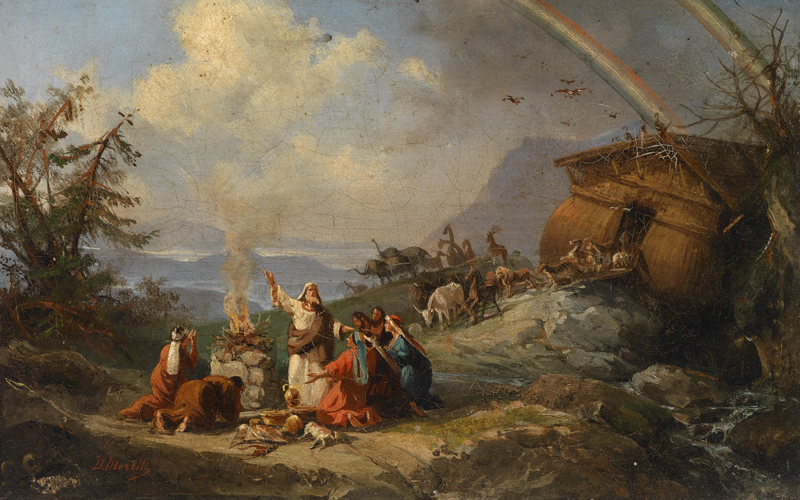 As creatures of God, we have divine capabilities that allow us to awaken in ourselves our most solidary side, which is at the same time the most scientific and strategic when it comes to acting in a preventive and direct way with regard to issues that afflict society. It is essential that we understand this link, this spiritual Covenant that we establish. Regarding this, Paiva Netto wrote in his book Jesus, o Profeta Divino [Jesus, the Divine Prophet]:
"A Covenant made by Abraham with no one less than God and maintained by Isaac and Jacob, symbolizing earthly beings with spiritual, religious, social, and political command responsibilities, and the people themselves who must raise their conscience to the Supreme Heights, from where the best inspirations come to us, because governance on Earth really does begin in Heaven. Just see that—with so many transgressors—we have still not managed to set fire to this beloved little planet of ours, which I love so much. Someone, who is above our current understanding of the facts, has managed to prevent absolute mayhem. Based on this, it is possible to assimilate that this Eternal Covenant was forged in benefit of earthly and spiritual creatures. If it is broken by degrading acts, the results will be the worst possible. Is that clear?"
A FRIENDLY INVITATION
Despite Humanity having received the sacred invitation for dialogue and Covenant several times from its Creator, God in no way disrespects the free will of anyone whatsoever. It is our decision to maintain or break this Divine Commitment. The risk of living distanced from Him, however, is great. After all, as we distance ourselves from the Heavenly Father our reference point of humanity and of Love also distances itself.
By practicing Charity, Jesus expanded people's views on how to connect with the Creator. This is a conscious choice of each one of us. It is a giving behavior, a behavior of Love that is renewed on a daily basis. That is why the Ecumenical Christ, therefore Universal, revealed to us in the form of a Commandment the Formula for us to be with God: "A New Commandment I give you: Love one another as I have loved you. Only by this shall all of you be recognized as my disciples, if you have the same Love for one another. If you keep my commandments, you will remain in my Love, just as I have kept my Father's commandments and remain in His Love. I have told you this so that my joy may be in you and that your joy may be complete. There is no greater Love than to lay down one's life for one's friends" (The Gospel according to John 13:34 and 35; 15:10, 11 and 13).
Putting this teaching into practice, which is the "essence of God" in the definition of the late proclaimer of the Religion of Universal Love Alziro Zarur (1914-1979), represents the New Covenant with the Heavenly Father, which is established in the thoughts and hearts of each one of us. Just as prophet Jeremiah announced in his book in the Old Testament 31:33: "This is the covenant I will make with the people of Israel after that time, declares the Lord: I will put my law in their minds and write it on their hearts. I will be their God, and they will be my people."
This is, therefore, a time of choice and renewal! Given this scenario and the countless challenges that are presented to society, the Temple of Good Will (TGW) is an ideal place for improving this Divine Particle3; it is the most visited monument in the capital of Brazil, Brasília4. It is also known as the Pyramid of the Luminous Spirits, the Pyramid of the Blessed Souls, and was built with the help of the people in order to invite, in an all-encompassing ecumenical way, all human beings to renew the Covenant with God.
In addition to providing an environment for retreat, for integration with the Creator, the Temple of Peace grants us practical learning of the New Commandment of Christ, based on the exercise of respect, Faith, and understanding among people. It promotes, therefore, the integration of all dimensions, both material and spiritual.
Do you want to develop within yourself this infinite capacity to love? Do you want to feel the presence of the Blessed Souls, the Luminous Spirits, in harmony with your religious and philosophical precepts? Then we invite you to make a pilgrimage to the Temple of Good Will and establish your dialogue with God and your commitment to Him, who is the Heavenly Father of all of us!
The Temple of Peace is located at SGAS 915, lotes 75/76 — Brasília, Brazil. For further information, write to english@boavontade.com.
____________
1 Religion of God, of the Christ, and of the Holy Spirit — also called the Religion of the Third Millennium, and the Religion of Universal Love. This is the Ecumenical Religion of Brazil and the world.
2 In his article "God, Equation and Love", published in several newspapers, magazines, and websites in Brazil and abroad.
3 Divine Particle — With regard to the Divine Part that we all have, this is what Paiva Netto writes in his book É Urgente Reeducar! [It is Urgent to Re-educate]: "That is why in the Legion of Good Will we cultivate the Divine Part, in other words, the sublime part, which exists in all individuals, waiting to be awoken to show its efficacy in Goodness. It is a shining fraction that each one of us has within ourselves, apart from beliefs or disbeliefs. Mercy, Compassion, Justice—all allied to Fraternity—and other noble sentiments are manifestations of this superior component of our character."
4 According to information from Brasília's Tourism Office (SETUR-DF).